Brilliant Cube, Gangnam Station, Korea (2013. 10 ~ 2014. 03)
Brilliant Cube created by [media artist group : Jonpasang], based in Seoul, Korea, directed by Jin-Yo Mok in collaboration with Earl Park, Sookyun Yang, Jinwook Yeo, Sangwook Yoo, Seonghoon Bae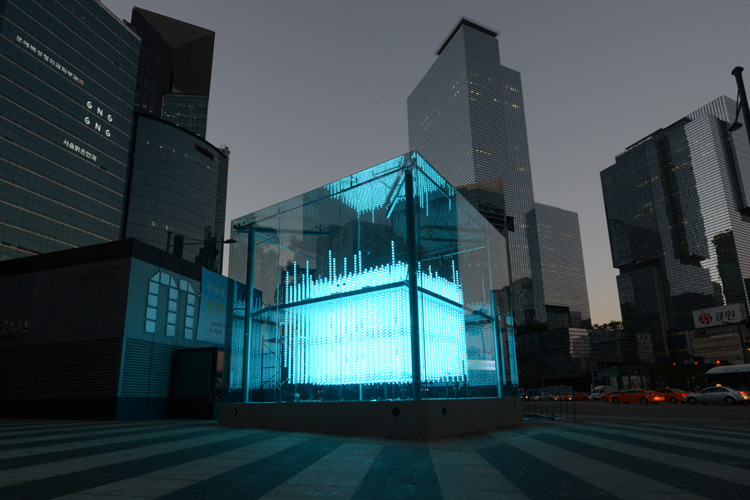 Frog Xylophone, Seoul Mecenat & Arts Walk, Seoul Museum of History (2012. 11)
Performance by Hyunsook Ahn, Music by Taesun Yoo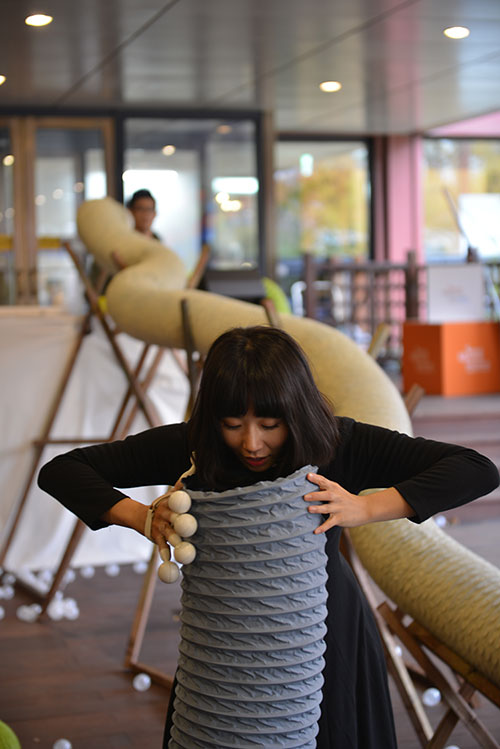 Hyper-Matrix, Hyundai Motor Group pavilion at EXPO 2012 YEOSU, KOREA (2012. 05 ~ 2012. 08)
Hyper-Matrix is a kinetic landscape installation created for the Hyundai Motor Group Exhibition Pavilion in Korea, the 2012 Yeosu EXPO site. The installation consists of a specially made huge steel construction to support thousands of stepper motors that control 320x320mm cubes that project out of the internal facade of the building. The foam cubes are mounted to actuators that move them forward and back by the steppers, creating patterns across the three-sided display. Comprised of what at first appear to be three blank white walls, Hyper-Matrix installation quickly comes to life as thousands of individual cubic units forming a field of pixels begin to move, pulsate, and form dynamic images across the room, creating infinite number of possibilities in the vertical, 180 degree, landscape. In addition, as the boxes are arranged at only 5mm narrow intervals, the wall can also be a nice moving screen for the images projected on to it.
Hyper-Matrix created by [media artist group : Jonpasang], based in Seoul, Korea, led by Jin-Yo Mok in collaboration with Earl Park, Sookyun Yang, Sangwook Yoo, Jinwook Yeo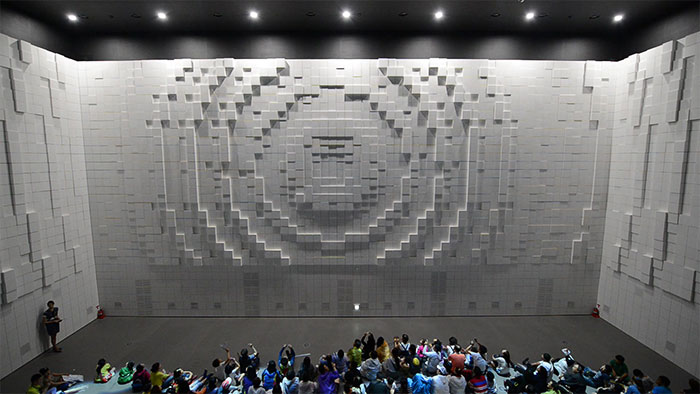 Mr. KongDak, Random Access Black Box, Seoul Art Space Geumcheon (2011. 11)
'Mr. KongDak' is a heart beating robot. It consists of HAND part, BODY part, and LEG part. The hand part equipped with a contact microphone collects subtle heart beats. The body part comprises several electrical parts for low frequency filtering and amplifying, PCB, a sub-woofer, and driving devices. And transformable four legs support the body. The moment Mr. KongDak's hand touches the viewer's heart, his heart comes alive beating in the same frequency with the viewer's.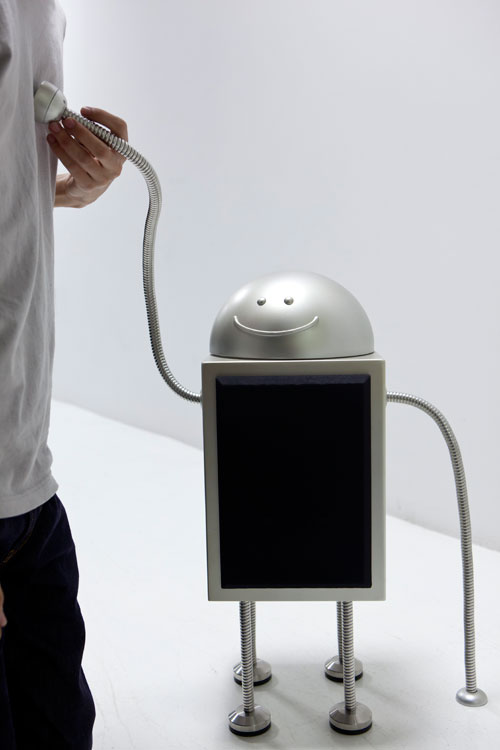 Frog Xylophone, The Creators Project : Seoul 2011, Platoon Kunsthalle (2011. 09)
Performance by Hyunsook Ahn & Lamu, Music by Kharag Penpa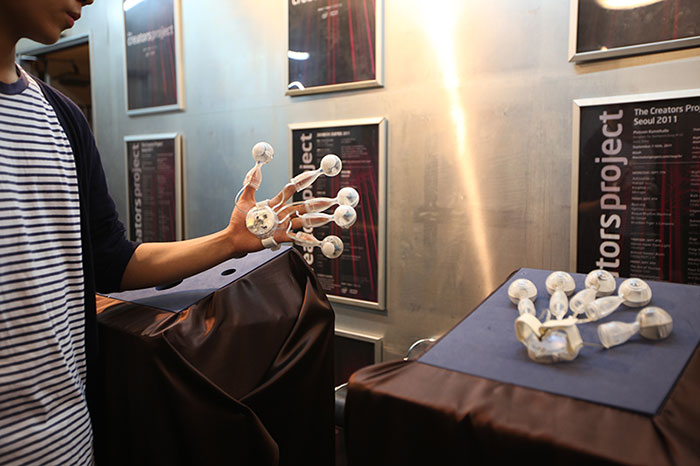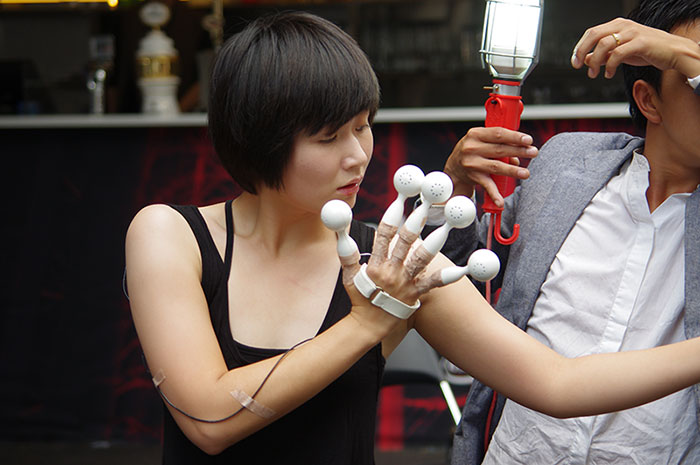 Openstudio & 5min presentation, Seoul Art Space Geumcheon (2011. 05)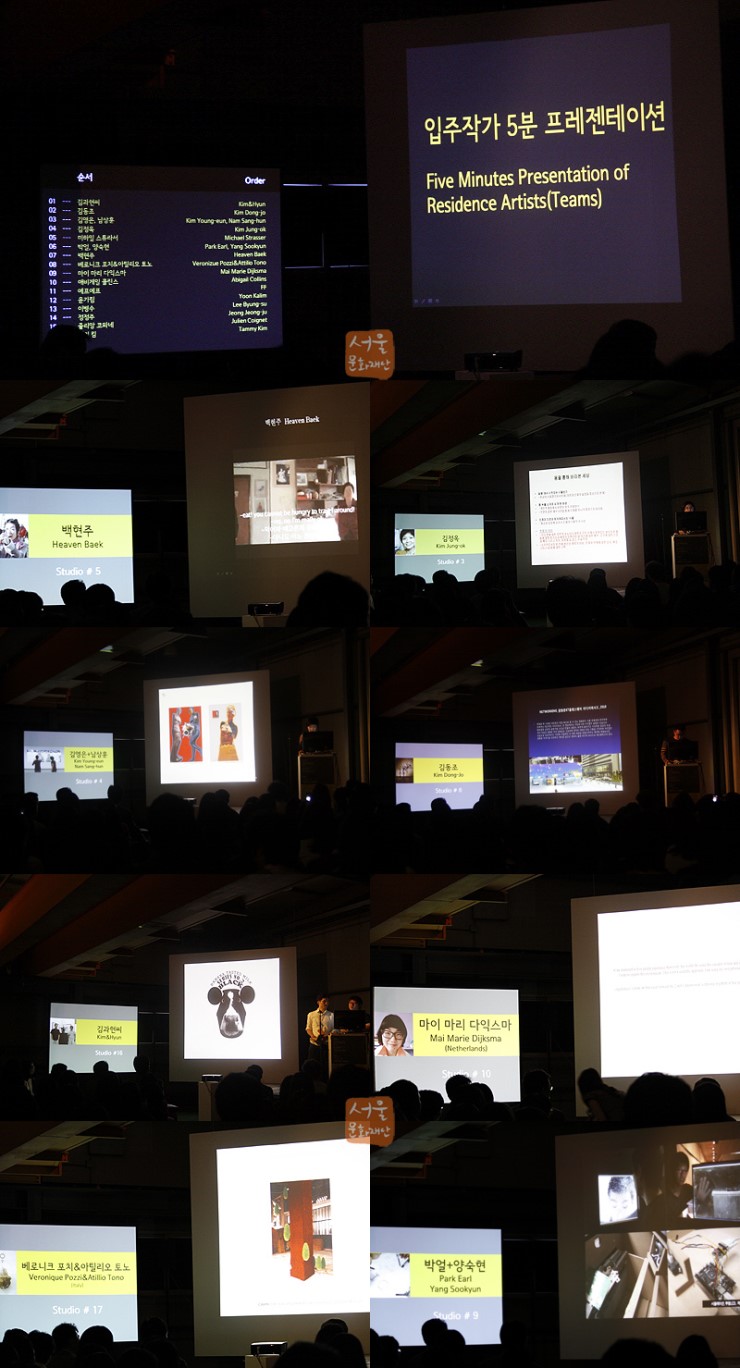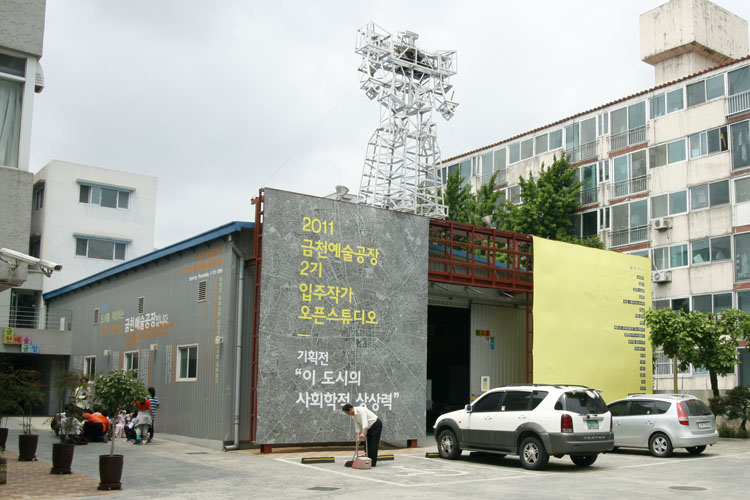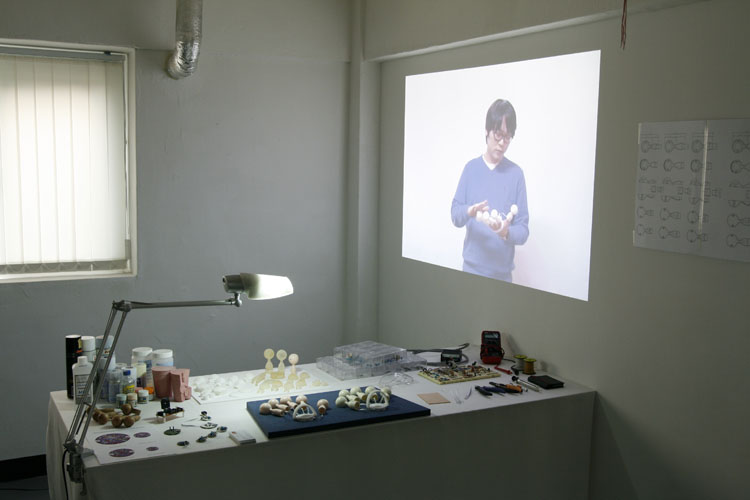 Frog Xylophone,The Return of Techne, Seoul Art Space Geumcheon (2010. 12)
"Frog Xylophone is a device that transforms one's hand into a musical instrument."
It consists of five finger-caps and a round device on the palm connected to them with cable. It can make ten different sounds from ten fingers by touching anywhere on the body.

Each finger-cap has a DAC(Digital to Analogue Converter) and amp unit, a speaker and a touch sensor inside. The device on the palm is composed of a MCU(Micro Controller Unit), a li-po battery, and a micro SD card unit. When each touch sensor in the finger-cap senses minute electric currents flowing through human bodies, it sends a signal to the MCU. The MCU retrieves the corresponding sound from the micro SD card and transfers it to the DAC, amp unit through the cable to make the sound through the speaker. It is recharged by being mounted on the recharger installed on the display panel.
The original idea started at a childhood memory of a scene from an animation film, where the main character, a frog boy, was playing a flute, but it looked as if the melodies were coming from his moving fingers. This image developed into the idea of hands transformed into an musical instrument. By putting on this device, our hands turn into a xylophone. Its moving fingers make sound anywhere on the body, which in turn makes the whole body an instrument. We ourselves are an musical instrument itself and explore another possibility of human expression!
in collaboration with Sookyun Yang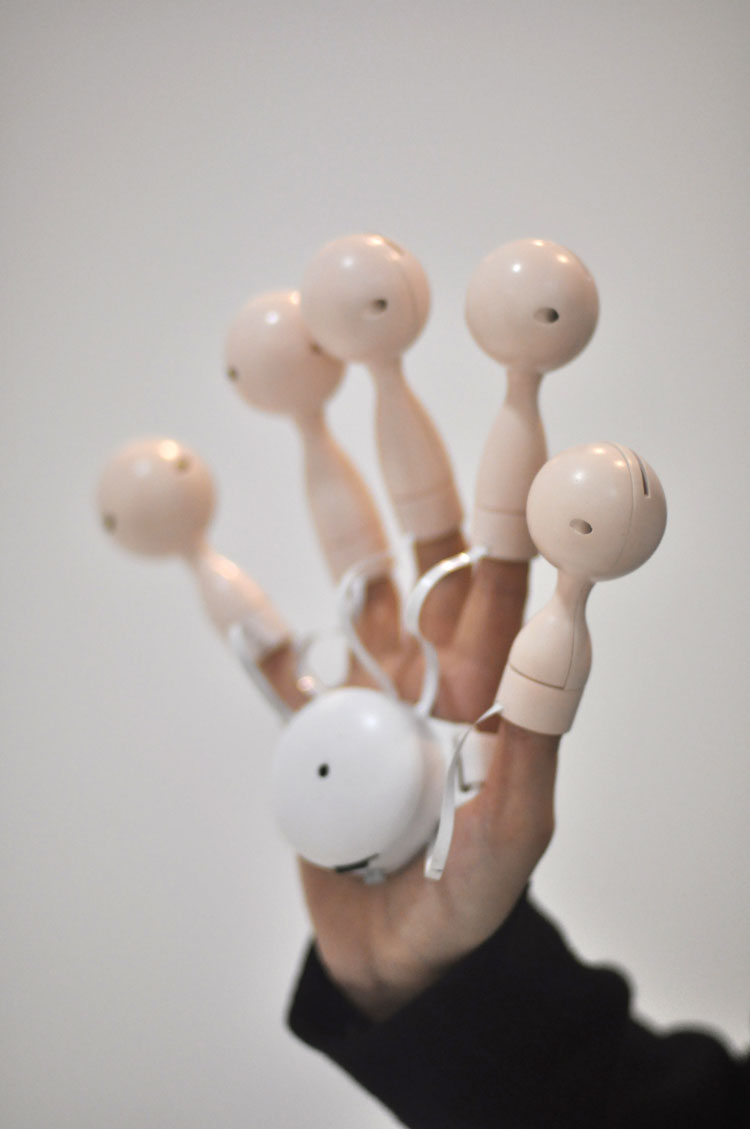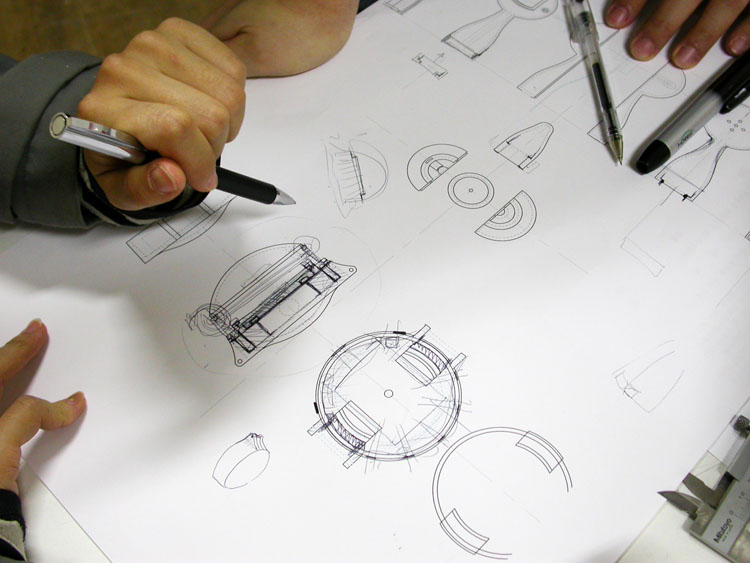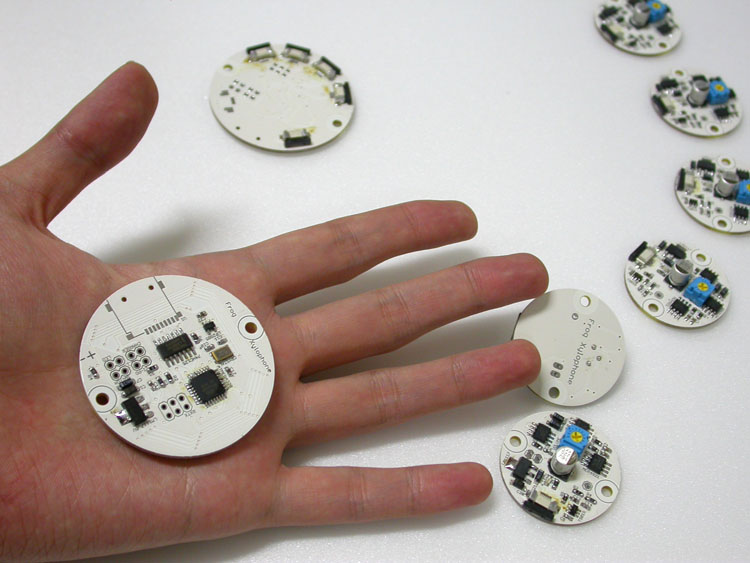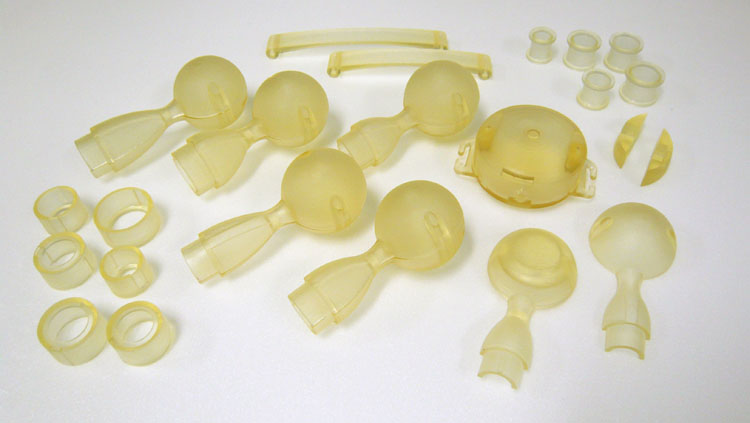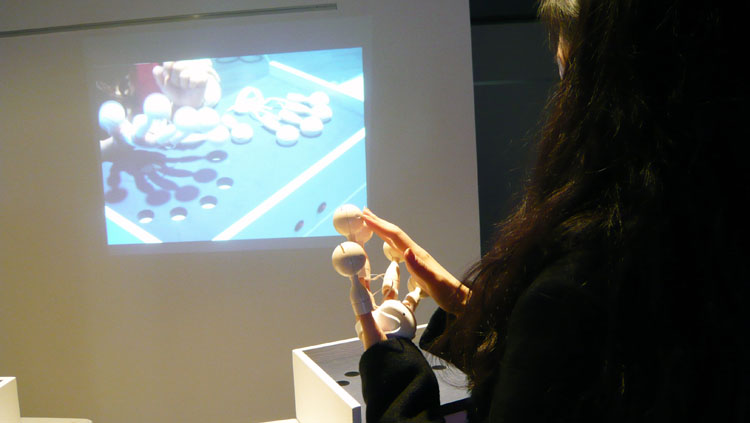 Noble Mono, Shinsegae Main Department Strore (2010)
Noble Mono, 3-layered LED Net-Matrix, installed on the facade of Shinsegae Main Department Store in Seoul,is a 3-layered media facade artwork composed of more than 10'000 LEDs. It creates elegant luxury impresssion by using refined monotone color differentiating itself from conventional showy building decorations. The images about 3 main themes - 80th Anniversary of Shinsegae, Christmas, New Year's Day - are rendered in totally unconventional and artistic way and have a firm three dimensional look through making the best use of the 3-layered hardware.
Noble Mono created by [media artist group : J o n p a s a n g], based in Seoul, Korea, led by Jin-Yo Mok in collaboration with Earl Park, Sookyun Yang, Dae-ro Ra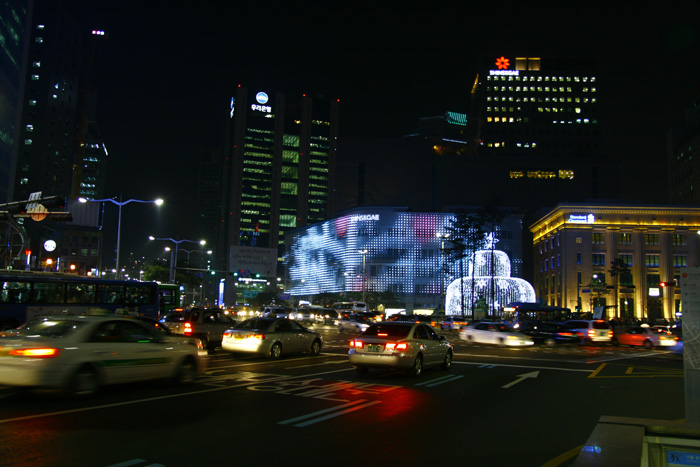 The Knight of the Dining Table with Peter Lee & nolgong plant, The Creators Project : Seoul 2010, Kring (2010. 08)
LED display system Design & Installation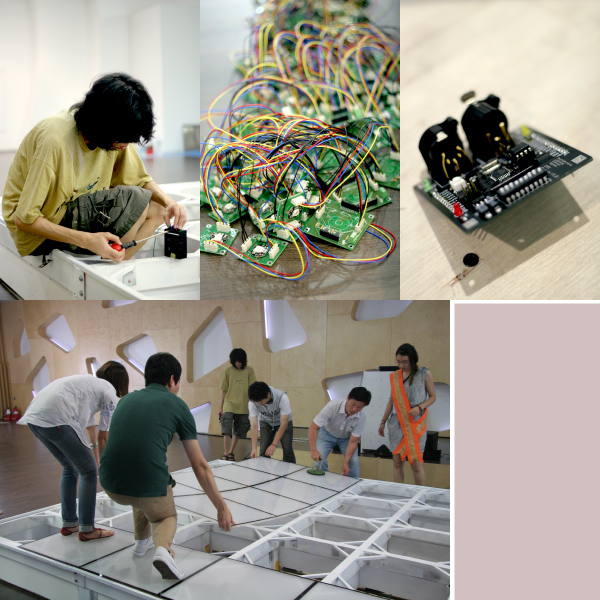 The Earth (2009)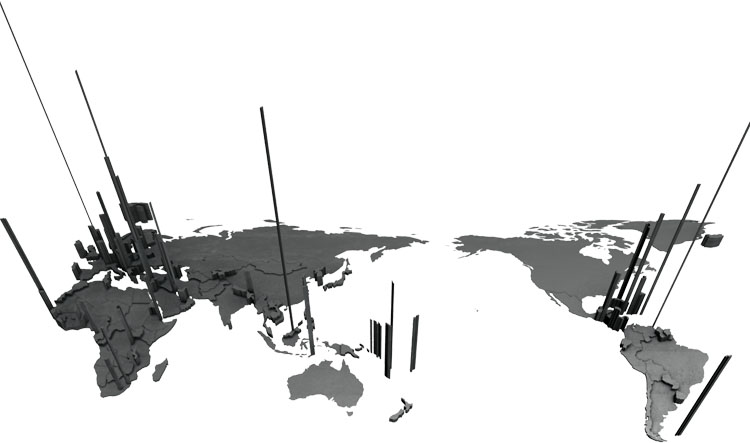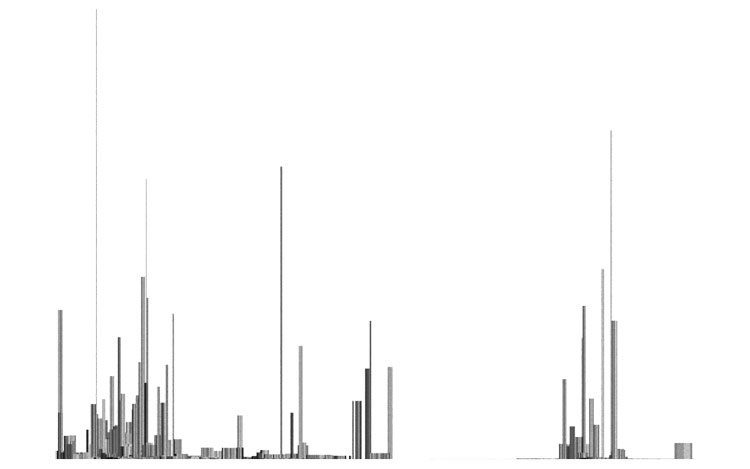 Interactive performance J-th time, Arko Art Theater & Korea National University of Arts (2009. 09)
Interactive programming (Scene #1)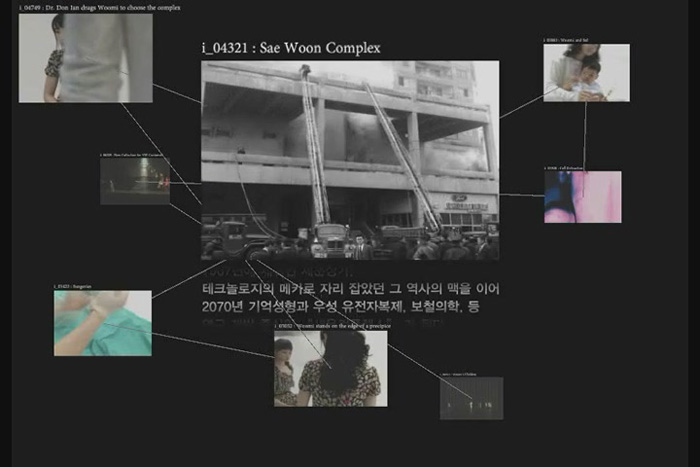 TimeSpace, Visual media electrical imagination, IDAS (2007. 10)